The below information has been prepared to the best of TCA's knowledge. Our goal is to list all Turkish Americans who have been elected to public office in the United States. Any further information can be forwarded to info@tc-america.org.

Twelve Turkish Americans have been elected to U.S. political office.
John Alpay
John Alpay, a resident of San Clemente, won his election for Area 3 Trustee for the Capistrano Unified School District, the ninth largest school district in California on November 2, 2010. He previously served as a Parks & Recreation Commissioner for San Clemente, and on the Budget & Finance Committee for Talega, his 3200-unit homeowners association. He remains as a director for the Spanish Village Foundation, a local nonprofit. John is also involved with the San Clemente Sunrise Rotary and the Hawaiian Surf Club of San Onofre. With his wife Rochelle, together they have three children.
Kemal Bozkurt
Kemal Bozkurt serves as the Acting Director of the Lawrence Public Library in Lawrence, MA. He is currently running to serve on the Lawrence School Committee, a position he previously held in 2015. Bozkurt has lived in Lawrence, MA for the past 17 years. He is a loving husband and father to three children.
Esin Busche
Esin Busche has served as a Naperville Trustee, a member of the Fair Housing Advisory Commission and a Republican Precinct committeewoman in Naperville, IL, elected in 2009. She has been a three-term membership chairman for the Naperville Republican Women and was the Naperville campaign coordinator for the presidential and governor/lieutenant governor races in 2004 and 2006. Esin has a Masters degree in Chemistry and worked for three global companies, Sherwin Williams, Litton Industries and Sigma Coatings. She currently lives in the south side of Naperville Township with her husband and son, and is employed by Dow Chemical Company.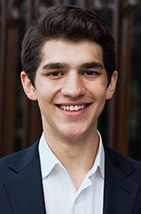 Hacibey Catalbasoglu
Hacibey 'Haci' Catalbasoglu was elected as an Independent in the November 7, 2017 general election to the Board of Alders for Ward 1 in New Haven, Connecticut. Haci is 19 years old and a junior at Yale University. He is the youngest Turkish American to ever run and be elected to public office. He is also one of the youngest Alders to ever serve on the Board of Alders in New Haven. In 2017, he was nominated to serve on the city's Commission on Homelessness after many years of volunteering and advocacy for the New Haven Livable City Initiative through New Haven's Youth@Work program. He was recommended for confirmation to the Commission by a unanimous vote of the Board of Alders' Aldermanic Affairs Committee on April 24, 2017. As a member of the Commission, Haci is tasked with advising New Haven Mayor Toni Harp on how to actively combat the homelessness epidemic in New Haven. In the summer of 2016, he had the opportunity to intern for U.S. Senator Chris Murphy (D-CT).
Hon. Jay Karahan
Judge Jay (Ceyhun) Karahan was elected to judicial office in November 2002 and was sworn in as Judge of Harris County Criminal Court-at-Law No. 8 on January 1, 2003. He was re-elected to that office 3 more times and served until December 31, 2018, when he retired from active judicial service. Judge Karahan is a native of Tampa, Florida. Judge Karahan moved to Texas in 1979 to study law at South Texas College of Law. In 1987, the U.S. Attorney General appointed him an Assistant United States Attorney for the Southern District of Texas. As a federal prosecutor he served in the Major Offender Division, Bank Fraud Task Force, and as a district coordinator for child exploitation investigations and prosecutions. As both a state and federal prosecutor Judge Karahan tried to jury verdict over 100 serious felony cases. He is licensed to practice before the Texas Supreme Court, the U.S. District Court for the Southern District of Texas, and U.S. Court of Appeals for the Fifth Judicial Circuit. Since 1988 Judge Karahan has been certified by the Texas Board of Legal Specialization as a Criminal Law Specialist.
Hon. Ali Paksoy
Judge Ali Paksoy serves as a district court judge for the Judicial District 27-B of North Carolina. In June 2005, Judge Paksoy was appointed to fill the unexpired term of a retiring judge. He has been re-elected three times to consecutive four-year terms, most recently in 2014. Prior to becoming a judge, he maintained a general law practice with trial experience in all levels of court for twenty-eight years. Judge Paksoy is a native of Cleveland County, North Carolina and received his undergraduate degree from the University of North Carolina at Chapel Hill and his J.D. from the University of Alabama School of Law.
Aycha Sawa
Aycha (Sirvanci) Sawa was elected as City Comptroller, a nonpartisan position, of Milwaukee, Wisconsin, on April 7, 2020. She is the 12th Turkish American elected to public office, the first Turkish American to become a Chief Financial Officer for a major American city, and the second woman elected as a city official in Milwaukee. Sawa is a first-generation Turkish American born in Milwaukee. As a Certified Public Accountant (CPA) and a Certified Internal Auditor, she has served as Deputy Comptroller in Milwaukee for three years before becoming Comptroller. She has an undergraduate degree in Accounting and Management from the University of Wisconsin-Madison. After graduation, Sawa worked as an auditor in the state of Wisconsin's Department of Transportation and a CPA firm before joining Milwaukee's Comptroller Office. At the University of Wisconsin, she was an officer in the Madison Association of Turkish Students and started a Turkish film festival in Madison. She also attended a semester at Bosphorus University as an exchange student. Sawa has been an active member of the Turkish American Association in Milwaukee. She is married to Drew Sawa, and they have one daughter.
Tayfun Selen
Turkish American Tayfun Selen of Chatham, New Jersey was elected on January 3, 2019 as the mayor of Chatham Township in the state of New Jersey, becoming the first Turkish American to hold such a position in the United States. In Chatham, by law, the public elects the municipal committee of three to five members, and the committee determines the mayor. Previously, Selen was elected as the Republican candidate to fill a vacant seat on the Chatham Township Committee in the November 7, 2017 elections. He served the remaining two years of Committee member John Maurer's term. Maurer, a Republican, resigned his seat in late August. Selen is Chairman of the Chatham Township Republican Committee and previously ran for New Jersey State Assembly in 2013 and 2015. Selen is an architect, accountant, and businessman who serves on the Advisory Board for Montclair State University's School of Business. He previously held a seat on his local Board of Adjustment. Selen holds a Bachelors of Science degree in Architecture from Istanbul Technical University and an MBA from Montclair State University in New Jersey.
Malik Tunador
Malik Tunador ran and won a seat on the Council of the Thornburg Borough of Allegheny County, PA in the early 1990s. Tunador has been living in Thornburg Borough since 1976 and served one term on the Borough Council.
Dr. Erdem Ural
Dr. Erdem Ural was elected in 2008 to the Stoughton School Committee in Stoughton, Massachusetts. He served in that position from 2008 to 2011. In 2012, Ural was elected again to the School Committee, serving until 2015. Dr. Ural holds a Ph.D. in Aerospace Engineering from the University of Michigan. He has resided in Stoughton for over 30 years and is married with 2 children.
Sel Yackley
Sel E. Yackley of Chicago, IL was elected to the Illinois Valley Community College Board of Directors from 1987-1997, in which she received the highest votes in a seven-county election. Previously she was elected to the Illinois Valley Community College Board of Directors in Ottawa, IL from 1976-1987. Sel is a published author, business owner, and skilled fundraiser. She remains active in her community as a volunteer for the Lyric Opera of Chicago and is an active member of various societies and associations. Currently, Sel runs her own public relations agency and travel agency.
Mehmet "MATT" Yar
Mehmet "Matt" Yar was elected to the Bloomfield County Education Board in New Jersey in 1998 and served until 2001. He chose not to run for a second term. When another board member resigned in 2002, Yar was appointed by the local election committee to fill the vacated seat. His second period of service on the board lasted until 2004.