TCAdvance Scholar Hosts Hugh Pope at Cambridge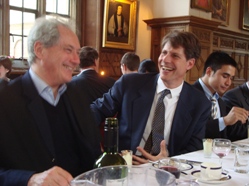 Geoffrey Edwards, Hugh Pope and Ata Akıner at dinner following Pope's lecture.
During his Spring semester at Cambridge University, TCAdvance Scholarship recipient and Secretary of the Cambridge University Turkish Society Ata Akıner organized an event featuring Hugh Pope on May 18, 2010. The event was cosponsored by the Department of Politics and International Studies (POLIS).
Hugh Pope is currently based in Istanbul as the Turkey/Cyprus Project Director of International Crisis Group. Previously, he was a Turkey and Middle East staff correspondent for several news agencies, including the Wall Street Journal, for nearly three decades. Pope is the author of Sons of the Conquerors, an analytical book on Turkish history, which was named one of The Economist's Best Books of 2005. Pope also co-authored Turkey Unveiled, an unrivalled history of modern Turkey and a New York Times Notable Book. Ata, who had interviewed Mr. Pope previously for his Master's thesis, invited him to Cambridge during one of his frequent trips to the UK. The event was attended by Cambridge undergraduate and graduate students, as well as faculty from the POLIS and Near Eastern Studies Departments.
Pope's lecture focused on Turkish foreign policy towards the Middle East and drew upon his latest book, Dining with Al-Qaeda to offer insight into Turkey's geopolitical position with respect to its neighbors. "If anyone is interested in learning more about Turkey, Mr. Hugh Pope is one of the first names to be consulted," Ata remarked. The lecture was followed by a lively question and answer session moderated by Dr. Geoffrey Edwards, renowned EU expert and Cambridge professor. Ata was responsible for coordinating the lecture as well as a formal dinner hosted at the Pembroke College. To learn more about the event from Mr. Pope's perspective, please see his blog entry here.